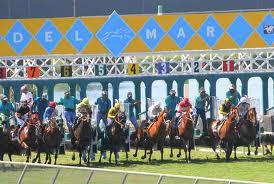 Del Mar horseracing season kicked off on July 20th, and thousands of San Diegans came out to the track to bet on the thoroughbreds and have a few cocktails.
San Diego and Oceanside Police Departments, along with the San Diego County Sheriff's Department, stopped 349 motorists near the track between 3 p.m. Wednesday and midnight on opening day, according to 10news.com. Fifteen people were arrested for drunk driving, four were arrested for driving without a license, fourteen vehicles were impounded, and thirty-five citations were issued for other traffic violations.
Included in the DUI arrests was jockey Mike Smith, a 2003 inductee in the horse-racing Hall of Fame. He has won 10 American Classic and Breeder's Cup races, including the big three, the Kentucky Derby, Belmont Stakes, and the Preakness.
Earlier in the day, Smith rode Mr. Commons to win the Oceanside Stakes. However, around 11:30 p.m., we was allegedly seen driving very slowly and weaving by Carmel Valley Road and Via Albertura, approximately five miles from the track. He was pulled over by San Diego Police and arrested for drunk driving.
The jockey was booked into jail and later released after posting bail. Smith, who weighs only 115 pounds, apologized for his actions after he admitted to drinking about 3 glasses of wine. He is due in court on September 1st.
According to the "Blood Alcohol Concentration Chart" on the California Department of Motor Vehicles' website, a 115 pound person having consumed 3 drinks, would likely be under the influence for purposes of driving within the four hours of the first drink. (Note, this is just an estimate as many factors will effect the actual blood alcohol content, or BAC.)
The Del Mar Races will continue through September 7th. You can expect the police will be out in full force in the Del Mar area looking for drunk drivers. So if you plan on attending the races and indulging in a few adult beverages, make sure you utilize public transportation or designate a sober driver. However, if you are driving, stopped, and ultimately arrested for drunk driving, contact

The Law Offices of Susan L. Hartman, an exclusively DUI defense firm. We aggressively fight drunk driving matters and we offer a free, confidential consultation. To set up an appointment, call 619-260-1122 or use the "Contact Us" form on this page.