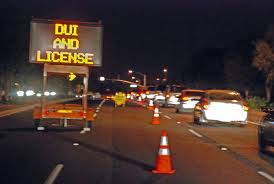 A Santee DUI checkpoint was conducted by the San Diego Sheriff's Department on Saturday, December 4th, from 8:30 p.m. until 3 a.m. Sunday morning. 751 cars were contacted on the 8800 block of Mission Gorge Road, which yielded 5 DUI arrests, according to the Sheriff's Department Press Release.
The checkpoint was conducted under a grant provided by the California Office of Traffic Safety.
Now that the holidays are here, you can expect that all law enforcement, including the San Diego Sheriff's Department, San Diego, Chula Vista, National City, El Cajon, and La Mesa Police Departments, and the California Highway Patrol, will be stepping up their efforts to find drunk drivers.