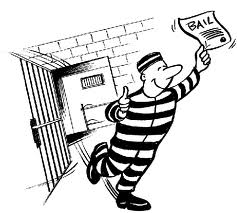 San Diego resident, Albert Pruitt, 27, was allegedly driving under the influence when he crashed his Ford Explorer on August 27th, at 7:00 a.m., according to 10news.com. Pruitt was northbound on Aldine Drive near Monroe Avenue when he hit the curb, lost control, and rolled his vehicle.
Two children, ages 2 and 4, were in the back seat. The 2 year old was in a booster seat and was uninjured. The 4 year old was restrained by an adult seatbelt which did not hold her. She was ejected from the vehicle. Her injuries are not known.
Pruitt is being held in the San Diego Central Jail with bail set $100,000.
Under the Eighth Amendment of the United States Constitution and the California Constitution, Article I, Section 12, excessive bail shall not be required.
Bail is a sum of money that is paid to the court in exchange for the release of the accused before trial. This money is used as a guarantee that the accused will appear in court. If the defendant fails to appear, the money is forfeited and a bench warrant is usually issued for the arrest of the accused.
A bail bond is purchased from a bail bondsman. The fee of the bond is usually 10% of the bail amount. The bond document is then provided to the court in lieu of the bail money. Once the document is signed by the accused, he or she is released from jail on the promise that they will appear in court. Again, if the defendant fails to appear, the bail bond may be forfeited.
In San Diego, the courts use the San Diego Bail Schedule to determine the starting point for the bail amount that the judge will impose. The judge also will consider other factors to determine if the bail should be reduced or increased, (Penal Code section 1275). Such factors include: Good standing in the community; employment; homeownership; criminal record; seriousness of the crime; probability that defendant will show up at court hearings and trial; dangers that the accused poses to the community; and, family and friend's presence in court.
Once bail is set, a motion may be brought requesting that the judge lower the bail amount or release the defendant on his or her own recognizance, (O.R. Release). Again, the court will consider the same factors in determining to grant such a motion.

If you or someone you know is arrested for DUI in San Diego County, and you have questions regarding bail matters, call The Law Offices of Susan L. Hartman right away. We offer a free, confidential consultation so you risk nothing by speaking to us about your case and your rights. To set up an appointment, send us a message online using the "Contact Us" form on this page or call 619-260-1122.