A suspected drunk driver allegedly drove his vehicle into two other cars in El Cajon on July 14th, at approximately 9:15 p.m. The accident happened near Melrose Lane and Royal Road in El Cajon. Apparently, one car was side swiped on the passenger side, as it was waiting to turn left into a driveway. The other car was behind the turning car, waiting to proceed. Four people were taken to the hospital. The driver was arrested for felony drunk driving, but his name has not been released.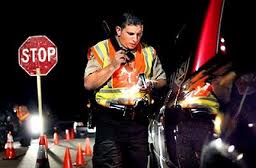 Chula Vista law enforcement held a sobriety checkpoint at the 300 block of L Street on July 14th. Out of the 776 vehicles that passed through the checkpoint, 327 were screened, 11 drivers were asked to perform field sobriety tests, and 2 drivers were arrested on suspicion of driving under the influence of alcohol. In addition, one driver was arrested on suspicion of driving while under the influence of drugs.
Chula Vista announced it will have another DUI checkpoint this Saturday, July 21st. The location of this one has not been announced.
Escondido Police Department conducted a DUI checkpoint at San Pasqual Valley Road and Oakhill Drive on Friday, July 13th. Officers also conducted a saturation patrol in Escondido until 3am, looking specifically for drunk drivers. (Note, Escondido Police did not publish the results of the saturation patrol.)
Of the 1287 drivers that passed through the sobriety checkpoint, 867 were screened, 60 were sent to secondary, 4 drivers were given field sobriety tests, and 2 people were arrested on suspicion of drunk driving.
The Chula Vista and Escondido DUI checkpoints were funded by grants from the California Office of Traffic Safety, through the National Highway Traffic Safety Administration (NHTSA).
In order for the police to lawfully conduct these sobriety checkpoints or DUI roadblocks, they must comply with the guidelines that have been established through the courts. If your arrest was the result of a DUI checkpoint, contact an exclusively DUI defense firm that can review the law enforcement's procedures and determine if the guidelines were followed. If they were not, the checkpoint could be ruled unlawful and the evidence against you may be inadmissible, often resulting in a dismissal!

If you are charged with DUI in San Diego County and you are not sure what to do next, never just plead guilty. Talk to The Law Offices of Susan L. Hartman to discuss your rights. For a free, confidential telephone consultation, use the "Contact Us" form on this page or call 619-260-1122 today.