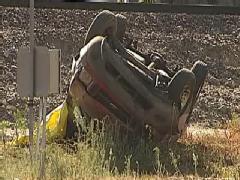 San Diego motorists called the California Highway Patrol (CHP) to report a driver on southbound Interstate 5, in the Leucadia area, throwing beer cans out the window and driving erratically around 4 p.m., according to 10news.com.
The driver then headed south on Interstate 805, through Sorrento Valley. He pulled over to urinate on the side of the road and then continued driving. CHP followed as he lost control of the vehicle and rolled over. The unidentified driver was partially ejected and was pronounced dead at the scene.
In California, it is not only illegal to drive while under the influence, it is also illegal to drink any alcoholic beverage while driving a vehicle, (see California Vehicle Code section 23220). In additional, it is unlawful for a driver to have any open bottle, can, or other receptacle, containing any alcoholic beverage in his or her possession, (see California Vehicle Code section 23223, Open Container Law).

If you are charged with driving under the influence, drinking while driving, or being in possession of an open container, anywhere in San Diego County, and you want to fight your case, contact The Law Offices of Susan L. Hartman, an exclusively DUI defense firm, for a free consultation. To schedule an appointment use the "Contact Us" form on this page or call 619-260-1122 today.