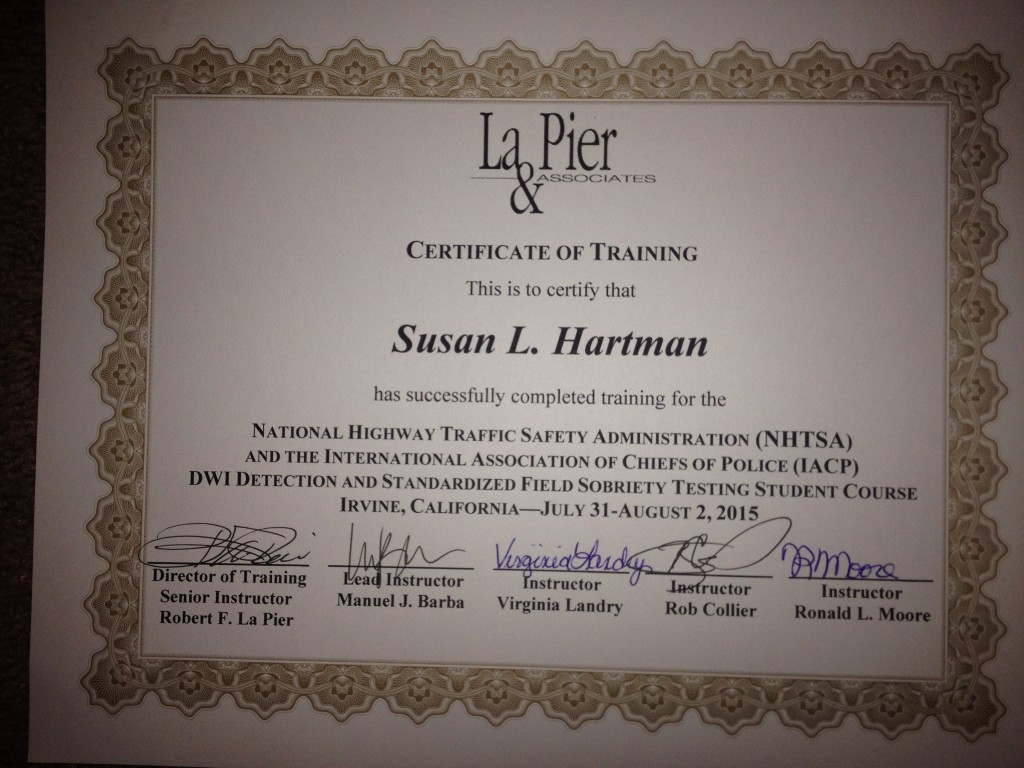 San Diego DUI defense attorney, Susan Hartman, of the Law Offices of Susan L. Hartman, recently attended The National Highway Traffic Safety Administration (NHTSA) and The International Association of Chiefs of Police (ICAP) approved DWI Detection and Standardized Field Sobriety Testing Practitioner Course, as presented by Mr. Robert La Pier. This is the very course law enforcement is trained in for DUI investigations, giving them the tools to determine if a person should be arrested for drunk driving.
During the training, which lasted three full days, Susan was tested through written exams and practical demonstrations. In the end, she passed the course and earned the certificate of completion.
According to NHTSA, there are only three standardized field sobriety tests (SFST's): 1.) The horizontal gaze nystagmus; 2.) The walk and turn; and 3.) The one leg stand. These are the only tests that have been validated by NHTSA and should be used by law enforcement in evaluating each potential DUI. It should be noted that these tests were only validated to correlate to a specific blood alcohol content (BAC) and they are not be used to show impairment.
In this blog article, the horizontal gaze nystagmus, or HGN, will be discussed. The other two tests will be addressed in upcoming blog articles. Continue reading →