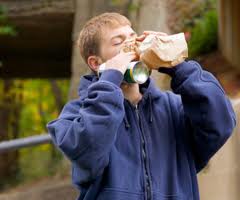 Drunk driving charges were brought after Christopher Jordan Johnson, 20, crashed his car into a tree in East Naples, Florida. He and his passenger, Brock Lyons, 21, admitted to huffing dust remover in aerosol cans before the crash, according to naplesnews.com. Johnson broke his right leg and hip and Lyons broke his arm and right ankle, and suffered a collapsed lung.
Painkiller DUI's have been increasing but huffing DUI's are still rare, according to an officer that was involved in the case.
In California, it is illegal to drive a vehicle while under the influence of alcohol, drugs, or the combined influence of any alcoholic beverage and a drug, (see Penal Code section 23152(a)). It does not matter if that drug is a prescription, an illegal substance, or a cleaning product that can be used as an inhalant, as long as the prosecutor can prove beyond a reasonable doubt that the driver was under the influence for purposes of driving.
San Diego prosecutors brought charges in its first huffing drunk driving case in May 2010, according to cbs8.com, stemming from an accident that occurred on December 31, 2009.
Defendant Romeo Dumlao, Jr., 34, was accused of huffing or inhaling difluoroethane vapors from a can of computer dust remover to get high, according to 10news.com. While in Point Loma, he drove his car into another car on Sports Arena Boulevard, ultimately killing 9 year old Ashley Heffington. He plead guilty to gross vehicular manslaughter while intoxicated in June 2010, and was sentenced to 16 years in prison in July 2010.

If you are charged with drunk driving in San Diego due to alcohol, prescription or illegal drugs, or cleaning agents or chemicals and you are not sure what to do next, never just plead guilty. Talk to The Law Offices of Susan L. Hartman to discuss your rights. For a free, confidential case evaluation, use the "Contact Us" form on this page or call 619-260-1122 today.